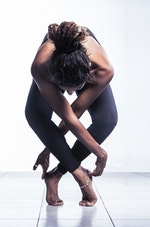 Somatic Yoga.
Luka is a certified Somatic Yoga and Mindfulness Teacher.
Somatic Yoga is about embodiment, sensation and awareness. Becoming grounded and present, feeling into and listening to the body's own wisdom. Allowing it to gently move and explore freely, finding release and dropping into spacious rest. Somatic Yoga is a delicious Meta-practice (loving kindness) for the body. In this practice we mindfully explore and play with Asana. Moving our soft animal body towards, into and out of postures fluidly, as though we are being moved by the waves and currents of a warm sea. With this gentle, caring and skilful approach, supported by the breath, the structure of the body is able to naturally unwind, release, open and align. In this way, we wake up the spine and feel our way into greater ease of movement and well being, from the inside out.
Luka's teacher training was with Still Flowing Yoga. Her practice is influenced by Scaravelli inspired Yoga, Vinyasa flow and mindfulness practice. It is also strongly informed by her contemporary dance training, free movement practice and experience as a therapeutic bodywork practitioner. She has a deep understanding of the body's anatomy and it's workings, both physically and energetically. Her work is trauma sensitive, supporting the cultivation of a more harmonious and resilient nervous system. She is passionate about facilitating others in deepening into the animal body to explore grounded spacious alignment; so cultivating embodied ease, presence and clarity.
Luka offers private one to one yoga sessions and group classes. Please contact for further information and to book places.
During a one to one session, the practice will be tailored around what you and your body need to support optimal well being.